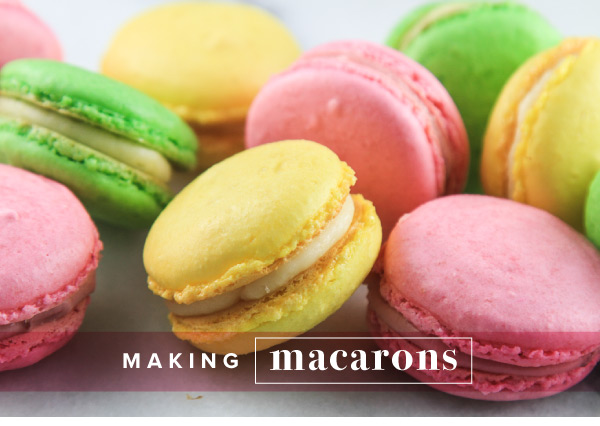 Delicate, ephemeral, and bursting with wonderful flavors, macarons top the list of special sweet treats.

 
These colorful French cookies feature two meringue-like layers made with almond flour and egg whites that cradle unique fillings -- buttercream, ganache, or jam. The cookies are simultaneously chewy, crunchy, and meltingly good. Known to be tricky to make, 
IN THIS ISSUE,
 we provide step-by-step instructions and helpful tips so that you can master macarons in your own kitchen! 
Tools for Making Macarons
USA Pan Cookie Sheet
Quality baking pans deliver even results every time!


 
Ateco 29 pc. Set
This set has tips and couplers -- everything you need to get started with piping macarons!
Leuke Macaron Mat
Get a helping hand with the baking and cleaning.


 
Harold 5 Cup Sifter
A flour sifter is a vital tool in making macarons.


 
Ankarsrum Mixer
A great stand mixer is key for baking amazing macarons and their fillings!


 
OXO Cooling Rack
Extra cooling racks come in handy when baking!